Construction timber
We offer CE-marked, strength-graded construction timber for building frames, roof trusses and large buildings.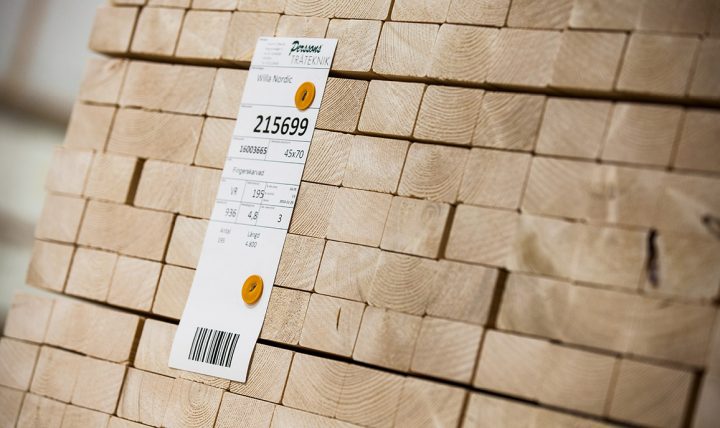 Strength graded construction timber of the highest quality
Timber is sorted in our sorting line using the latest, high precision technology. All in order to guarantee sorted timber of the highest quality. The production line is certified and approved by RISE and undergoes continuous quality audits. This makes sure our production line meets international industry standards.
Download our brochure here.
Standard product range
Wall studs / construction timber
| | | | | | | | |
| --- | --- | --- | --- | --- | --- | --- | --- |
| DIMENSION | VILMA BAS | TYPE OF WOOD | LENGTH | SURFACE | SURFACE TREATMENT | CLASS | QTY/PACKAGE |
| 45×45 | | Spruce | 3,6, 4,2, 4,8, 5,4 | Planed | Untreated | | 273 |
| 45×70 | | Spruce | 3,6, 4,2, 4,8, 5,4 | Planed | Untreated | | 195 |
| 45×95 | | Spruce | 3,6, 4,2, 4,8, 5,4 | Planed | Untreated | C24 | 143 |
| 45×120 | | Spruce | 3,6, 4,2, 4,8, 5,4 | Planed | Untreated | C24 | 117 |
| 45×145 | | Spruce | 3,6, 4,2, 4,8, 5,4 | Planed | Untreated | C24 | 91 |
| 45×170 | | Spruce | 3,6, 4,2, 4,8, 5,4 | Planed | Untreated | C24 | 78 |
| 45×195 | | Spruce | 3,6, 4,2, 4,8, 5,4 | Planed | Untreated | C24 | 65 |
| 45×220 | | Spruce | 3,6, 4,2, 4,8, 5,4 | Planed | Untreated | C24 | 65 |
FINGER-JOINTED CONSTRUCTION TIMBER
| | | | | | | | |
| --- | --- | --- | --- | --- | --- | --- | --- |
| DIMENSION | VILMA BAS | TYPE OF WOOD | LENGTH | SURFACE | SURFACE TREATMENT | CLASS | QTY/PACKAGE |
| 45×145 | | Spruce | 6-12 | Planed | Untreated | C24/C30 | 91 |
| 45×170 | | Spruce | 6-12 | Planed | Untreated | C24/C30 | 78 |
| 45×195 | | Spruce | 6-12 | Planed | Untreated | C24/C30 | 65 |
| 45×220 | | Spruce | 6-12 | Planed | Untreated | C24/C30 | 65 |
| 58×145 | | Spruce | 6-12 | Planed | Untreated | C24/C30 | |
| 58×170 | | Spruce | 6-12 | Planed | Untreated | C24/C30 | |
| 58×195 | | Spruce | 6-12 | Planed | Untreated | C24/C30 | |
| 58×220 | | Spruce | 6-12 | Planed | Untreated | C24/C30 | |
| 70×145 | | Spruce | 6-12 | Planed | Untreated | C24/C30 | |
| 70×170 | | Spruce | 6-12 | Planed | Untreated | C24/C30 | |
| 70×195 | | Spruce | 6-12 | Planed | Untreated | C24/C30 | |
| 70×220 | | Spruce | 6-12 | Planed | Untreated | C24/C30 | |
FINGER-JOINTED CONSTRUCTION TIMBER
SHORT STUDS
| | | | | | | | |
| --- | --- | --- | --- | --- | --- | --- | --- |
| DIMENSION | VILMA BAS | TYPE OF WOOD | LENGTH | SURFACE | SURFACE TREATMENT | CLASS | QTY/PACKAGE |
| 45×45 | | Spruce | 2,5 | Planed | Untreated | VR | 273 |
| 45×70 | | Spruce | 2,5 | Planed | Untreated | VR | 195 |
| 45×95 | | Spruce | 2,5 | Planed | Untreated | VR | 143 |
| 45×120 | | Spruce | 2,5 | Planed | Untreated | VR | 117 |
| 45×145 | | Spruce | 2,5 | Planed | Untreated | VR | 91 |
Contact