Exterior panel - Norrland cladding
All of the timber for our panels comes from the forests of Norrland where trees grow slowly, annual rings are dense, and the wood is of the highest quality.
Norrland quality panels
The wood for our exterior panels comes from the best raw material districts in northern Sweden. We use trees that have been growing for a long time, which provide a high-quality product. All panels are available non-treated, or with base coat or base coat and primer. Our paint shops can also treat external panelling with distemper, iron sulphate or glaze.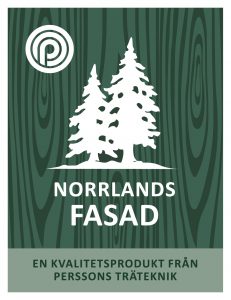 Norrland cladding – painted panelling that can be erected in any season
Our Norrland cladding panels come with a base coat and primer. Painting takes place right next door to our planing mill, providing great control and consistent quality. And painting the wood twice means only one final topcoat remains to be done on site when the panel is installed. This means Norrland cladding can be installed immediately on delivery no matter the season. Norrland cladding can be ordered in any NCS colour.
A product range with more than 500 profiles
The cladding profile adds character. We currently have more than 500 different profiles, many of which are customer specific. If you can't find the profile you're looking for, we can create more variants. Contact us and we'll help you find a solution.
Finger-jointed panel up to 7.2 metres
If your project requires panels in lengths outside standard dimensions, we can provide finger-jointed panels in lengths up to 7.2 metres. Finger-jointed panels can be produced in many different profiles, dimensions and finishes. As ever, the raw material is Norrland timber, which guarantees high quality.
Download our brochure here.
Standard product range
SAWN PANELLING
| | | | | | | | |
| --- | --- | --- | --- | --- | --- | --- | --- |
| DIMENSION | VILMA BAS | PROFILE | TYPE OF WOOD | LENGTH | SURFACE TREATMENT | CLASS | QTY/PACKAGE |
| 21×45 | | Sawn | Spruce | 3,6, 5,4 | Untreated | G4-2 | 336 |
| 21×45 | | Sawn | Spruce | 3,6, 5,4 | Base coat | G4-2 | 336 |
| 21×45 | | Sawn | Spruce | 3,6, 5,4 | Base coat + Primer | G4-2 | 336 |
| 21×70 | | Sawn | Spruce | 4,2, 4,8, 5,4 | Untreated | G4-2 | 336 |
| 21×70 | | Sawn | Spruce | 4,2, 4,8, 5,4 | Base coat | G4-2 | 336 |
| 21×70 | | Sawn | Spruce | 4,2, 4,8, 5,4 | Base coat + Primer | G4-2 | 336 |
| 21×95 | | Sawn | Spruce | 3,0, 3,6, 4,2, 4,8, 5,4 | Untreated | G4-2 | 264 |
| 21×95 | | Sawn | Spruce | 3,0, 3,6, 4,2, 4,8, 5,4 | Base coat | G4-2 | 264 |
| 21×95 | | Sawn | Spruce | 3,0, 3,6, 4,2, 4,8, 5,4 | Base coat + Primer | G4-2 | 264 |
| 21×120 | | Sawn | Spruce | 3,0, 3,6, 4,2, 4,8, 5,4 | Untreated | G4-2 | 216 |
| 21×120 | | Sawn | Spruce | 3,0, 3,6, 4,2, 4,8, 5,4 | Base coat | G4-2 | 216 |
| 21×120 | | Sawn | Spruce | 3,0, 3,6, 4,2, 4,8, 5,4 | Base coat + Primer | G4-2 | 216 |
| 21×145 | | Sawn | Spruce | 3,0, 3,6, 4,2, 4,8, 5,4 | Untreated | G4-2 | 168 |
| 21×145 | | Sawn | Spruce | 3,0, 3,6, 4,2, 4,8, 5,4 | Base coat | G4-2 | 168 |
| 21×145 | | Sawn | Spruce | 3,0, 3,6, 4,2, 4,8, 5,4 | Base coat + Primer | G4-2 | 168 |
| 21×170 | | Sawn | Spruce | 3,0, 3,6, 4,2, 4,8, 5,4 | Untreated | G4-2 | 144 |
| 21×170 | | Sawn | Spruce | 3,0, 3,6, 4,2, 4,8, 5,4, 7,2 | Base coat | G4-2 | 144 |
| 21×170 | | Sawn | Spruce | 3,0, 3,6, 4,2, 4,8, 5,4 | Base coat + Primer | G4-2 | 144 |
| 21×195 | | Sawn | Spruce | 4,2, 4,8, 5,4 | Untreated | G4-2 | 120 |
| 21×195 | | Sawn | Spruce | 4,2, 4,8, 5,4 | Base coat | G4-2 | 120 |
| 21×195 | | Sawn | Spruce | 4,2, 4,8, 5,4 | Base coat + Primer | G4-2 | 120 |
| 28×70 | | Sawn | Spruce | 5,4 | Untreated | G4-2 | 108 |
| 28×70 | | Sawn | Spruce | 5,4 | Base coat | G4-2 | 108 |
| 28×70 | | Sawn | Spruce | 5,4 | Base coat + Primer | G4-2 | 108 |
| 28×95 | | Sawn | Spruce | 4,2, 5,4 | Untreated | G4-2 | 198 |
| 28×95 | | Sawn | Spruce | 4,2, 5,4 | Base coat | G4-2 | 198 |
| 28×95 | | Sawn | Spruce | 4,2, 5,4 | Base coat + Primer | G4-2 | 198 |
| 28×120 | | Sawn | Spruce | 4,8, 5,4 | Untreated | G4-2 | 162 |
| 28×120 | | Sawn | Spruce | 4,8, 5,4 | Base coat | G4-2 | 162 |
| 28×120 | | Sawn | Spruce | 4,8, 5,4 | Base coat + Primer | G4-2 | 162 |
| 28×145 | | Sawn | Spruce | 4,8, 5,4 | Untreated | G4-2 | 126 |
| 28×145 | | Sawn | Spruce | 4,8, 5,4 | Base coat | G4-2 | 126 |
| 28×145 | | Sawn | Spruce | 4,8, 5,4 | Base coat + Primer | G4-2 | 126 |
| 28×170 | | Sawn | Spruce | 4,8, 5,4 | Untreated | G4-2 | 108 |
| 28×170 | | Sawn | Spruce | 4,8, 5,4 | Base coat | G4-2 | 108 |
| 28×170 | | Sawn | Spruce | 4,8, 5,4 | Base coat + Primer | G4-2 | 108 |
| 28×195 | | Sawn | Spruce | 5,4 | Untreated | G4-2 | 108 |
| 28×195 | | Sawn | Spruce | 5,4 | Base coat | G4-2 | 108 |
| 28×195 | | Sawn | Spruce | 5,4 | Base coat + Primer | G4-2 | 108 |
Finger-jointed panel
| | | | | | | | |
| --- | --- | --- | --- | --- | --- | --- | --- |
| DIMENSION | VILMA BAS | PROFILEE | TYPE OF WOOD | LENGTH | SURFACE TREATMENT | CLASS | QTY/PACKAGE |
| 21×145 | | Sawn | Spruce | 7,2 | Untreated | G4-2 | 84 |
| 21×145 | | Sawn | Spruce | 7,2 | Base coat | G4-2 | 84 |
| 21×145 | | Sawn | Spruce | 7,2 | Base coat + Primer | G4-2 | 84 |
| 21×170 | | Sawn | Spruce | 7,2 | Untreated | G4-2 | 72 |
| 21×170 | | Sawn | Spruce | 7,2 | Base coat | G4-2 | 72 |
| 21×170 | | Sawn | Spruce | 7,2 | Base coat + Primer | G4-2 | 72 |
| 28×145 | | Sawn | Spruce | 7,2 | Untreated | G4-2 | 63 |
| 28×145 | | Sawn | Spruce | 7,2 | Base coat | G4-2 | 63 |
| 28×145 | | Sawn | Spruce | 7,2 | Base coat + Primer | G4-2 | 63 |
| 28×170 | | Sawn | Spruce | 7,2 | Untreated | G4-2 | 54 |
| 28×170 | | Sawn | Spruce | 7,2 | Base coat | G4-2 | 54 |
| 28×170 | | Sawn | Spruce | 7,2 | Base coat + Primer | G4-2 | 54 |
Profiled panel
DOUBLE-SIDED TONGUED AND GROOVED SHIPLAP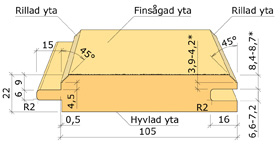 | | | | | | | | |
| --- | --- | --- | --- | --- | --- | --- | --- |
| DIMENSION | VILMA BAS | PROFILE | TYPE OF WOOD | LENGTH | SURFACE TREATMENT | CLASS | QTY/PACKAGE |
| 22×120 | VB2328 | Double-sided tongued and grooved | Spruce | 3,0, 3,6, 4,2, 4,8, 5,4 | Untreated | G4-2 | 216 |
| 22×120 | VB2360 | Double-sided tongued and grooved | Spruce | 3,0, 3,6, 4,2, 4,8, 5,4 | Base coat | G4-2 | 216 |
| 22×120 | VB1120 | Double-sided tongued and grooved | Spruce | 3,0, 3,6, 4,2, 4,8, 5,4 | Base coat + Primer | G4-2 | 216 |
| 22×145 | VB2329 | Double-sided tongued and grooved | Spruce | 3,0, 3,6, 4,2, 4,8, 5,4 | Untreated | G4-2 | 168 |
| 22×145 | VB2361 | Double-sided tongued and grooved | Spruce | 3,0, 3,6, 4,2, 4,8, 5,4 | Base coat | G4-2 | 168 |
| 22×145 | VB1121 | Double-sided tongued and grooved | Spruce | 3,0, 3,6, 4,2, 4,8, 5,4 | Base coat + Primer | G4-2 | 168 |
Profiled panel
SINGLE-SIDED TONGUED AND GROOVED

| | | | | | | | |
| --- | --- | --- | --- | --- | --- | --- | --- |
| DIMENSION | VILMA BAS | PROFILE | TYPE OF WOOD | LENGTH | SURFACE TREATMENT | CLASS | QTY/PACKAGE |
| 21×120 | | Shiplap | Spruce | 4,8 , 5,4 | Untreated | G4-2 | 216 |
| 21×120 | | Shiplap | Spruce | 4,8 , 5,4 | Base coat | G4-2 | 216 |
| 21×120 | | Shiplap | Spruce | 4,8 , 5,4 | Base coat + Primer | G4-2 | 216 |
| 21×145 | | Shiplap | Spruce | 4,8, 5,4 | Untreated | G4-2 | 168 |
| 21×145 | | Shiplap | Spruce | 4,8, 5,4 | Base coat | G4-2 | 168 |
| 21×145 | | Shiplap | Spruce | 4,8, 5,4 | Base coat + Primer | G4-2 | 168 |
| 21×170 | | Shiplap | Spruce | 4,8, 5,4 | Untreated | G4-2 | 144 |
| 21×170 | | Shiplap | Spruce | 4,8, 5,4 | Base coat | G4-2 | 144 |
| 21×170 | | Shiplap | Spruce | 4,8, 5,4 | Base coat + Primer | G4-2 | 144 |
Profiled panel
SINGLE BEVEL SHIPLAP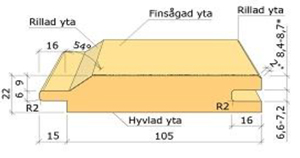 | | | | | | | | |
| --- | --- | --- | --- | --- | --- | --- | --- |
| DIMENSION | VILMA BAS | PROFILE | TYPE OF WOOD | LENGTH | SURFACE TREATMENT | CLASS | QTY/PACKAGE |
| 22×120 | VB2313 | Single-sided tongued and grooved | Spruce | 3,0, 3,6, 4,2, 4,8, 5,4 | Untreated | G4-2 | 216 |
| 22×120 | VB2345 | Single-sided tongued and grooved | Spruce | 3,0, 3,6, 4,2, 4,8, 5,4 | Base coat | G4-2 | 216 |
| 22×120 | VB1099 | Single-sided tongued and grooved | Spruce | 3,0, 3,6, 4,2, 4,8, 5,4 | Base coat + Primer | G4-2 | 216 |
| 22×145 | VB2314 | Single-sided tongued and grooved | Spruce | 3,0, 3,6, 4,2, 4,8, 5,4 | Untreated | G4-2 | 168 |
| 22×145 | VB2346 | Single-sided tongued and grooved | Spruce | 3,0, 3,6, 4,2, 4,8, 5,4 | Base coat | G4-2 | 168 |
| 22×145 | VB1109 | Single-sided tongued and grooved | Spruce | 3,0, 3,6, 4,2, 4,8, 5,4 | Base coat + Primer | G4-2 | 168 |
Profiled panel
DOUBLE BEVEL SHIPLAP
| | | | | | | | |
| --- | --- | --- | --- | --- | --- | --- | --- |
| DIMENSION | VILMA BAS | PROFILE | TYPE OF WOOD | LENGTH | SURFACE TREATMENT | CLASS | QTY/PACKAGE |
| 22×145 | VB2027 | Double bevel shiplap | Spruce | 4,8, 5,4 | Untreated | G4-2 | 168 |
| 22×145 | VB2030 | Double bevel shiplap | Spruce | 4,8, 5,4 | Base coat | G4-2 | 168 |
| 22×145 | VB1129 | Double bevel shiplap | Spruce | 4,8, 5,4 | Base coat + Primer | G4-2 | 168 |
| 22×145 | VB2021 | Single bevel shiplap | Spruce | 4,8, 5,4 | Untreated | G4-2 | 168 |
| 22×145 | VB2024 | Single bevel shiplap | Spruce | 4,8, 5,4 | Base coat | G4-2 | 168 |
| 22×145 | VB1126 | Single bevel shiplap | Spruce | 4,8, 5,4 | Base coat + Primer | G4-2 | 168 |
Profiled panel
BEVELLED EDGE TONGUE-AND-GROOVE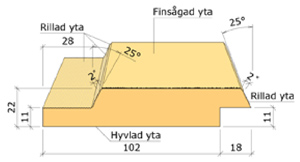 | | | | | | | | |
| --- | --- | --- | --- | --- | --- | --- | --- |
| DIMENSION | VILMA BAS | PROFILE | TYPE OF WOOD | LENGTH | SURFACE TREATMENT | CLASS | QTY/PACKAGE |
| 22×120 | VB2322 | Bevelled edge tongue-and-groove | Spruce | 3,0, 3,6, 4,2, 4,8, 5,4 | Untreated | G4-2 | 216 |
| 22×120 | VB2354 | Bevelled edge tongue-and-groove | Spruce | 3,0, 3,6, 4,2, 4,8, 5,4 | Base coat | G4-2 | 216 |
| 22×120 | VB1117 | Bevelled edge tongue-and-groove | Spruce | 3,0, 3,6, 4,2, 4,8, 5,4 | Base coat + Primer | G4-2 | 216 |
| 22×145 | VB2323 | Bevelled edge tongue-and-groove | Spruce | 3,0, 3,6, 4,2, 4,8, 5,4 | Untreated | G4-2 | 168 |
| 22×145 | VB2355 | Bevelled edge tongue-and-groove | Spruce | 3,0, 3,6, 4,2, 4,8, 5,4 | Base coat | G4-2 | 168 |
| 22×145 | VB1118 | Bevelled edge tongue-and-groove | Spruce | 3,0, 3,6, 4,2, 4,8, 5,4 | Base coat + Primer | G4-2 | 168 |
Profiled panel
SQUARE SHIPLAP 15/21 (also supplied in 15/25)
| | | | | | | | |
| --- | --- | --- | --- | --- | --- | --- | --- |
| DIMENSION | VILMA BAS | PROFILE | TYPE OF WOOD | LENGTH | SURFACE TREATMENT | CLASS | QTY/PACKAGE |
| 21×95 | | Square shiplap 15/21 | Spruce | 3,6, 5,4 | Untreated | G4-2 | 264 |
| 21×95 | | Square shiplap 15/21 | Spruce | 3,6, 5,4 | Base coat | G4-2 | 264 |
| 21×95 | | Square shiplap 15/21 | Spruce | 3,6, 5,4 | Base coat + Primer | G4-2 | 264 |
| 21×120 | | Square shiplap 15/21 | Spruce | 3,0, 3,6, 4,2, 4,8, 5,4 | Untreated | G4-2 | 216 |
| 21×120 | | Square shiplap 15/21 | Spruce | 3,0, 3,6, 4,2, 4,8, 5,4 | Base coat | G4-2 | 216 |
| 21×120 | | Square shiplap 15/21 | Spruce | 3,0, 3,6, 4,2, 4,8, 5,4 | Base coat + Primer | G4-2 | 216 |
| 21×145 | | Square shiplap 15/21 | Spruce | 3,0, 3,6, 4,2, 4,8, 5,4 | Untreated | G4-2 | 168 |
| 21×145 | | Square shiplap 15/21 | Spruce | 3,0, 3,6, 4,2, 4,8, 5,4 | Base coat | G4-2 | 168 |
| 21×145 | | Square shiplap 15/21 | Spruce | 3,0, 3,6, 4,2, 4,8, 5,4 | Base coat + Primer | G4-2 | 168 |
Profiled panel
PLANED TONGUED AND GROOVED TIMBER
| | | | | | | | |
| --- | --- | --- | --- | --- | --- | --- | --- |
| DIMENSION | VILMA BAS | PROFILE | TYPE OF WOOD | LENGTH | SURFACE TREATMENT | CLASS | QTY/PACKAGE |
| 21×145 | | Planed tongued and grooved timber | Spruce | 5,4 | Untreated | G4-2 | 168 |
| 21×145 | | Planed tongued and grooved timber | Spruce | 5,4 | Base coat | G4-2 | 168 |
| 21×145 | | Planed tongued and grooved timber | Spruce | 5,4 | Base coat + Primer | G4-2 | 168 |
COVER BOARDING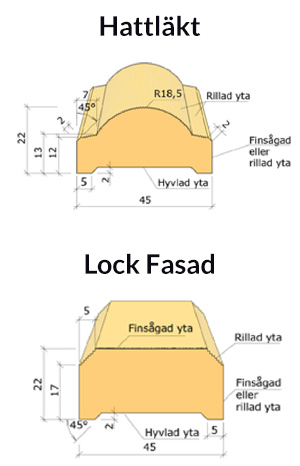 | | | | | | | | |
| --- | --- | --- | --- | --- | --- | --- | --- |
| DIMENSION | VILMA BAS | PROFILE | TYPE OF WOOD | LENGTH | SURFACE TREATMENT | CLASS | QTY/PACKAGE |
| 22×45 | VB2039 | Hat battens | Spruce | 3,0, 3,6, 4,2, 4,8, 5,4 | Untreated | G4-2 | 336 |
| 22×45 | VB2040 | Hat battens | Spruce | 3,0, 3,6, 4,2, 4,8, 5,4 | Base coat | G4-2 | 336 |
| 22×45 | VB1130 | Hat battens | Spruce | 3,0, 3,6, 4,2, 4,8, 5,4 | Base coat + Primer | G4-2 | 336 |
| 21×45 | VB2319 | Cover boarding | Spruce | 3,0, 3,6, 4,2, 4,8, 5,4 | Untreated | G4-2 | 336 |
| 21×45 | VB2351 | Cover boarding | Spruce | 3,0, 3,6, 4,2, 4,8, 5,4 | Base coat | G4-2 | 336 |
| 21×45 | VB1116 | Cover boarding | Spruce | 3,0, 3,6, 4,2, 4,8, 5,4 | Base coat + Primer | G4-2 | 336 |
NORRLAND CLADDING
| | | | | | | | |
| --- | --- | --- | --- | --- | --- | --- | --- |
| DIMENSION | VILMA BAS | PROFILE | TYPE OF WOOD | LENGTH | SURFACE TREATMENT | CLASS | QTY/PACKAGE |
| 21×45 | | Sawn | Spruce | 3,6, 5,4 | Base coat + Primer | G4-2 | 336 |
| 21×70 | | Sawn | Spruce | 4,2, 4,8, 5,4 | Base coat + Primer | G4-2 | 336 |
| 21×95 | | Sawn | Spruce | 3,0, 3,6, 4,2, 4,8, 5,4 | Base coat + Primer | G4-2 | 264 |
| 21×120 | | Sawn | Spruce | 3,0, 3,6, 4,2, 4,8, 5,4 | Base coat + Primer | G4-2 | 216 |
| 21×145 | | Sawn | Spruce | 3,0, 3,6, 4,2, 4,8, 5,4 | Base coat + Primer | G4-2 | 168 |
| 21×170 | | Sawn | Spruce | 3,0, 3,6, 4,2, 4,8, 5,4 | Base coat + Primer | G4-2 | 144 |
| 21×195 | | Sawn | Spruce | 4,2, 4,8, 5,4 | Base coat + Primer | G4-2 | 120 |
| 28×70 | | Sawn | Spruce | 5,4 | Base coat + Primer | G4-2 | 108 |
| 28×95 | | Sawn | Spruce | 4,2, 5,4 | Base coat + Primer | G4-2 | 198 |
| 28×120 | | Sawn | Spruce | 4,8, 5,4 | Base coat + Primer | G4-2 | 162 |
| 28×145 | | Sawn | Spruce | 4,8, 5,4 | Base coat + Primer | G4-2 | 126 |
| 28×170 | | Sawn | Spruce | 4,8, 5,4 | Base coat + Primer | G4-2 | 108 |
| 28×195 | | Sawn | Spruce | 5,4 | Base coat + Primer | G4-2 | 108 |
| 22×120 | VB1120 | Double-sided tongued and grooved | Spruce | 3,0, 3,6, 4,2, 4,8, 5,4 | Base coat + Primer | G4-2 | 216 |
| 22×145 | VB1121 | Double-sided tongued and grooved | Spruce | 3,0, 3,6, 4,2, 4,8, 5,4 | Base coat + Primer | G4-2 | 168 |
| 21×120 | | Shiplap | Spruce | 4,8 , 5,4 | Base coat + Primer | G4-2 | 216 |
| 21×145 | | Shiplap | Spruce | 4,8, 5,4 | Base coat + Primer | G4-2 | 168 |
| 21×170 | | Shiplap | Spruce | 4,8, 5,4 | Base coat + Primer | G4-2 | 144 |
| 22×120 | VB1099 | Single-sided tongued and grooved | Spruce | 3,0, 3,6, 4,2, 4,8, 5,4 | Base coat + Primer | G4-2 | 216 |
| 22×145 | VB1109 | Single-sided tongued and grooved | Spruce | 3,0, 3,6, 4,2, 4,8, 5,4 | Base coat + Primer | G4-2 | 168 |
| 22×145 | VB1129 | Double bevel shiplap | Spruce | 4,8, 5,4 | Base coat + Primer | G4-2 | 168 |
| 22×145 | VB1126 | Single bevel shiplap | Spruce | 4,8, 5,4 | Base coat + Primer | G4-2 | 168 |
| 22×120 | VB1117 | Bevelled edge tongue-and-groove | Spruce | 3,0, 3,6, 4,2, 4,8, 5,4 | Base coat + Primer | G4-2 | 216 |
| 22×145 | VB1118 | Bevelled edge tongue-and-groove | Spruce | 3,0, 3,6, 4,2, 4,8, 5,4 | Base coat + Primer | G4-2 | 168 |
| 21×95 | | Square shiplap 15/21 | Spruce | 3,6, 5,4 | Base coat + Primer | G4-2 | 264 |
| 21×120 | | Square shiplap 15/21 | Spruce | 3,0, 3,6, 4,2, 4,8, 5,4 | Base coat + Primer | G4-2 | 216 |
| 21×145 | | Square shiplap 15/21 | Spruce | 3,0, 3,6, 4,2, 4,8, 5,4 | Base coat + Primer | G4-2 | 168 |
| 21×145 | | Planed tongued and grooved timber | Spruce | 5,4 | Base coat + Primer | G4-2 | 168 |
COVER BOARDING
NORRLAND CLADDING
| | | | | | | | |
| --- | --- | --- | --- | --- | --- | --- | --- |
| DIMENSION | VILMA BAS | PROFILE | TYPE OF WOOD | LENGTH | SURFACE TREATMENT | CLASS | QTY/PACKAGE |
| 22×45 | VB1130 | Hat battens | Spruce | 3,0, 3,6, 4,2, 4,8, 5,4 | Base coat + Primer | G4-2 | 336 |
| 21×45 | VB1116 | Cover boarding | Spruce | 3,0, 3,6, 4,2, 4,8, 5,4 | Base coat + Primer | G4-2 | 336 |
FINGER-JOINTED NORRLAND CLADDING
| | | | | | | | |
| --- | --- | --- | --- | --- | --- | --- | --- |
| DIMENSION | VILMA BAS | PROFILE | TYPE OF WOOD | LENGTH | SURFACE TREATMENT | CLASS | QTY/PACKAGE |
| 21×145 | | Sawn | Spruce | 7,2 | Base coat + Primer | G4-2 | 84 |
| 21×170 | | Sawn | Spruce | 7,2 | Base coat + Primer | G4-2 | 72 |
| 28×145 | | Sawn | Spruce | 7,2 | Base coat + Primer | G4-2 | 63 |
| 28×170 | | Sawn | Spruce | 7,2 | Base coat + Primer | G4-2 | 54 |
Contact